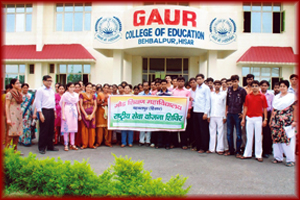 The Process of education is undergoing remarkable changes now a days due to the development of science and technology. New researches in the area of education effects our educational process. Great efforts are needed to keep up with the change. 'Change' it the need of the society. It is this change that we are aiming at Gaur College of Education.
Gaur College of Education is a self finance college for improving the quality of teacher Education which is located at Behbalpur, Chandigarh Road, Hisar. This institution is established by Ved Educations Society registration Act XXI of 1860 No. 692 of 1986-87 and dated 15—1986 under the able guidance and leadership of an educationist, Mr. H.K. Sharma. This college is affiliated to CRSU, Jind and S.C.E.R.T. Gurgaon and approved by NCTE, Jaipur.
Ved senior secondary school, Hisar affiliated to Board of School Education Haryana & Blooming Dales School, Hisar affiliated to CBSE, New Delhi are working under the Ved Education Society, which add to the glory of its name.